Uncategorised
Rashford Gives Full Backing To Solskjaer
Manchester United striker Marcus Rashford says Ole Gunnar Solskjaer is the best man for the job at Old Trafford currently.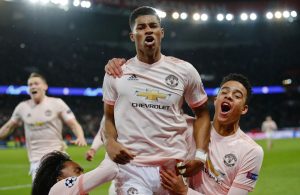 Image Source/Bangshowbiz
Solskjaer initially took over from Jose Mourinho last December and had a superb start to life in the managerial hot seat at Old Trafford.
He went 12 Premier League matches unbeaten and was getting the best out of the likes of Rashford and enigmatic Frenchman Paul Pogba.
The Norwegian, who represented Manchester United between 1996 and 2007 as a player, was handed the full-time job at the end of March this year.
However, things started to go awry afterwards, with United winning just two of their remaining seven Premier League games last season.
This season has continued in a similar trend, with inconsistency plaguing United's campaign as they lie seventh in the table.
They have yet to win back-to-back games in the Premier League this season and have struggled in particular away from home with a 3-1 triumph at Norwich at the end of October their only three-point haul of the campaign on the road.
Solskjaer has come under scrutiny this season with some believing the job may be too big for him given his limited past experience.
Rumours are beginning to intensify over his future, particularly with Mauricio Pochettino now available after leaving Tottenham on Tuesday night to be replaced by Mourinho.
Rashford however is convinced that United have the right man in charge in Solskjaer.
The England international, who signed a new long-term contract in July, says he is very happy at the club and that his boss was a big factor in him choosing to stay.
"There was no hesitation from me over signing a new contract and it was the same for Ole as well," Rashford told Sky Sports News. "I could see where his head was at, where he wanted the club to be at and for me it was just a no-brainer.

"We were on the same page and wanted the same things for the club. Ole is a great guy and he has the club's interests at heart so there's not a better person for the job in my opinion."