Uncategorised
Solskjaer Gives Big Update On Pogba's Return
Manchester United midfielder Paul Pogba is unlikely to return to action before December, according to manager Ole Gunnar Solskjaer.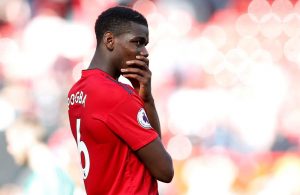 Image Source/Bangshowbiz
The French World Cup winner has not played for his club since September 30 after picking up a foot/ankle injury and United fans should not expect to see him back in action within the next four weeks.
Speaking after United's 3-1 win at Norwich, which was their first Premier League away win of the season, Solskjaer revealed it would likely be a minimum of around five weeks before the 26-year-old was back in the Reds side.
The norwegian said:
"I don't think we'll see him maybe before December,

"He'll be out for a while. He needs time to fully, fully recover, so don't think he'll be back maybe Sheffield United (on November 24) after the international break but probably December before you can see him."
The conspiracy theorists out there believe that all is not well with Pogba at United after he failed to get a move away from Old Trafford in the summer.
There have been suggestions he does not want to play and is in no rush to return to a team that has been struggling for results this season.
The fact that there is uncertainty over the exact nature of the injury does not help matters, only adds fuel to the rumours. Pogba has been seen with his right foot heavily bandaged in recent weeks, but Solskjaer confirmed on Sunday evening that the ankle was the issue.
The United boss said:
"I'm not the doctor but there is an injury there that needs healing," 

"Ankle rather than foot."
One thing that is certain, Pogba was angling for a move away from United in the summer, and is still said to be keen on a switch to Real Madrid in the future.
With the transfer window fast approaching, Pogba could have just one more month in a United shirt, if the powers that be decide to finally let him go.